Since were doing ships as well . . . . .
Knox Class FF
OHP Class FFG
Spruance Class DD
Ticonderoga Class CG
Sturgeon Class SSN
The original hangar we used at HSL-44 before the "new" hangars were added at Mayport, is still there, but the McDonald's is now a Panda Express? The first ship I deployed on, commissioned in 1987, was a brand new ship. I last saw it in Philly, with one other Tico and what must be the majority of the OHP fleet. I think the Google image is old, as I read that TSG has moved to New Orleans to be scrapped.
First shipboard landing was a TH-57 on Baylander in 1986. Did it again in 2010 in a UH-60A. My latest shipboard landing was last fall (2018) on a T-AKE. That's a thirty two year span! Wow, thinking of that stuff makes me feel old.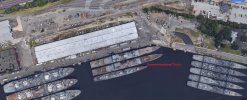 It doesn't help that I was watching the documentary "If I Leave Here Tomorrow" while writing this post. I grew up a little more than a mile from the Van Zant's, and some of the footage from the show was familiar from my childhood.
"The memories will be so thick they'll have to brush them away from their faces. "