Cold War Relic
pilot
Super Moderator
Thought these were interesting.
France's Charles de Gaulle aircraft carrier sets off for Asia
The carrier group is then scheduled to sail to Singapore via the Suez Canal to arrive in time for the Shangri-La Dialogue, an annual international Asian security summit which begins on May 31, 2019. During its deployment, the battle group is expected to participate in maritime exercises with the Egyptian navy, the Indian navy and the Japanese Maritime Self-Defence Force.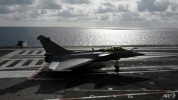 A Rafale fighter jet lands on the Charles De Gaulle in the Mediterranean on Feb 7, 2019.
Read more at
https://www.channelnewsasia.com/news/world/france-s-charles-de-gaulle-aircraft-carrier-sets-off-for-asia-11314688
https://www.channelnewsasia.com/news/world/france-s-charles-de-gaulle-aircraft-carrier-sets-off-for-asia-11314688
Japan inks deal with Kongsberg for F-35 standoff missile
https://www.defensenews.com/air/2019/03/13/japan-inks-deal-with-kongsberg-for-f-35-standoff-missile/