The Grass is Greener!
pilot
Site Admin
Contributor
Every couple of weeks I see an article in my news feed talking about the Chinese efforts to expand their Spratly artificial islands. I think the latest report speculated that they were up to 2,700 acres of land on these man made islands, along with an airstrip and deep water harbor. All while of course destroying some coral reefs in the process. Brinksmanship in the Pacific has been going on for quite awhile with China, and this seems to be the latest evolution in the chess game. But in this case do you think the US has been outmaneuvered with this slight of hand by the Chinese?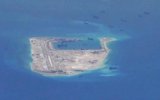 http://www.reuters.com/article/2015/07/02/us-southchinasea-china-airstrip-idUSKCN0PC00Q20150702
You can always check out the new digs and water front property, unless you arelike this P8 crew a couple months ago... "This is the Chinese navy ... This is the Chinese navy ... Please go away ... to avoid misunderstanding"

http://www.cnn.com/2015/05/20/politics/south-china-sea-navy-flight/
Speaking of construction projects, maybe the Chinese Baha Mar Hotel and Resort (filed bankruptcy with the resort half built in the Bahamas) should hire the company building the Spratly artificial reefs instead?

http://www.reuters.com/article/2015/06/30/china-bahamas-resort-idUSL1N0ZG15L20150630