SEVAL/ECMO
None
Super Moderator
Contributor
Did that occur during Vietnam?
No, the last time US ground forces military personnel were lost to enemy air attack was in April 1953 when North Korean aircraft attacked an allied-occupied island off the coast of North Korea.
I posted it before but here is an article detailing the attacks:
It would seem that US service members were killed by enemy aircraft during the Vietnam war.
Yes. We lost aircraft and servicemen to North Vietnamese and Chinese aircraft.
The ra-ra slide gets it wrong by leaving off the ground forces part, as
@Treetop Flyer
first noticed, and we lost aircrew to enemy aircraft in Vietnam and in the Gulf War (1 KIA).
All said there were a total a 269 American and enemy aircraft shot down in air-to-air combat over Vietnam during the entire war—201 in fights between the U.S. Air Force and North Vietnamese air force and 68 in the U.S. Navy's air battles with the North Vietnamese. In those fights, the U.S. Air Force lost 64 aircraft and the Navy lost 12.
There were actually a handful of notable air attacks by North Vietnam against US forces in Vietnam but in a combination of ineffectual attacks and luck we didn't have anyone killed as a result. Two that come to mind include
North Vietnamese Mig-17's that attacked a group of destroyers and a cruiser doing a gunfire support mission in April 1972
, the USS
Higbee
had its aft 5-inch gun turret destroyed but the crew had evacuated the turret earlier due to a misfire and no one was killed. The whole action was a bit of a confused mess with conflicting claims whether or not any of the attacking MiG-17's were lost to US Navy SAM's.
The other was 4 North Vietnamese An-2's that attacked 'Lima Site 85 in 1968, a forward TACAN and radar bombing control station set up on a mountain in Laos. They hit the base but no Americans were killed, some of our local allies at the base were, and
an An-2 returning to base was shot down by an Air America UH-1 crewman
armed with an AK-47.
Unfortunately the base later fell to a North Vietnamese ground attack that cost 13 American lives
.
A painting depicting the shootdown: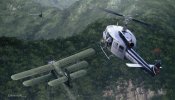 Last edited: