Hey folks, FY20 dates just were released within the past few days so I figured it made sense to make a thread and spreadsheet for this board. Drop your information in the thread and I'll get it added to the spreadsheet. Good luck! Fly Navy!
Board Date: 20191028
Package Due Date: 20190927
Personal Info:
Applying: SNA
OAR: 71
AQR: 9
PFAR: 9
FOFAR: 9
GPA: 3.25
Age: 30
Sex: M
Major: Aerospace Engineering
Prior Service: Y
Additional info: Prior service USMC enlisted (E-5) aircrew with ~800 hours and multiple instructor qualifications, FAA SEL Private pilot with ~100 hours, currently employed as engineer in the defense industry, LORs from current manager and former commanding officer (USMC O-5), MEPS completed and currently assembling package.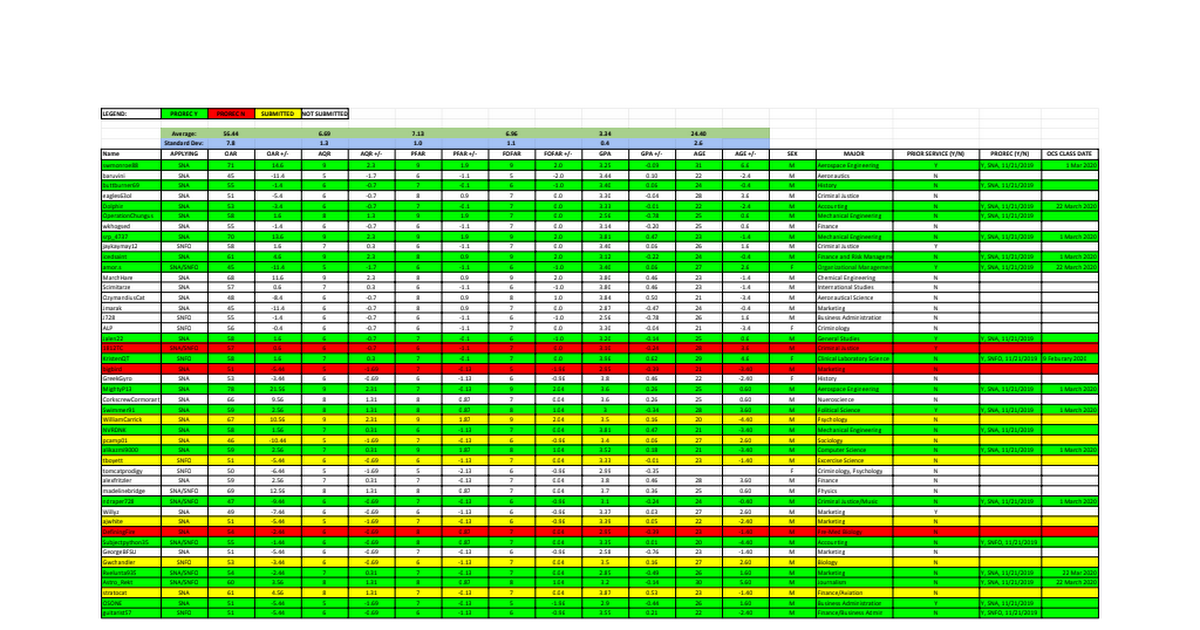 Sheet1 LEGEND: ,PROREC Y,PROREC N,SUBMITTED,NOT SUBMITTED ,Average:,55.91,6.62,7.08,6.85,3.31,24.49 Standard Dev:,7.2,1.2,1.0,1.1,0.4,2.6 Name,APPLYING,OAR,OAR +/-,AQR,AQR +/-,PFAR,PFAR +/-,FOFAR,FOFAR +/-,GPA,GPA +/-, AGE,AGE +/-,SEX,MAJOR,PRIOR SERVICE (Y/N),PROREC (Y/N),OCS CLASS DATE swmonr...

docs.google.com