Cold War Relic
pilot
Super Moderator
I didn't realize there was debate about it... you learn something new every day. When I read your original post, I was thinking in my head, "No, HMS Dorsetshire torpedoed her in the end..."

For the German side of the story (the Bismarck or any other war history), the problem I find with looking up the German side of WWI and WWII history is like 90% of the google hits are neo-Nazi websites and similarly kooky stuff. It's hard to sift through that stuff to find anything good. There is good material out there but it's more work to find it than stuff on any of the other major powers.
HMS Dorsetshire (Pennant #40),
one of the 14
County
Class heavy cruiser. Famous for firing the last torpedoes at the
Bismarck
(as well as over 250 rounds from her main guns), she was later sunk by Japanese dive bombers whose bombs hit the ships magazine. This attack by 53 D3A Val dive bombers hit the
Dorsetshire
10 times with 250 lb and 550 lb bombs. Her sister ship
Cornwall
was hit by 8 bombs and sunk 10 minutes later in the same attack.
Length: 633 ft, Beam: 66 ft, Displacement: 13,640 tons
4 turbines produced 80,000 HP and gave 31.5 knots
Armament: 8 (4x2) 8"/50 calibre Mk VIII rifles throwing 256 lb shells out to 17 NM, 8 (4x2) 4"dual purpose guns, 24 2pounder AA guns
8 x 21" torpedo tubes
Commissioned: 30 September 1930, Sunk: 5 April 1942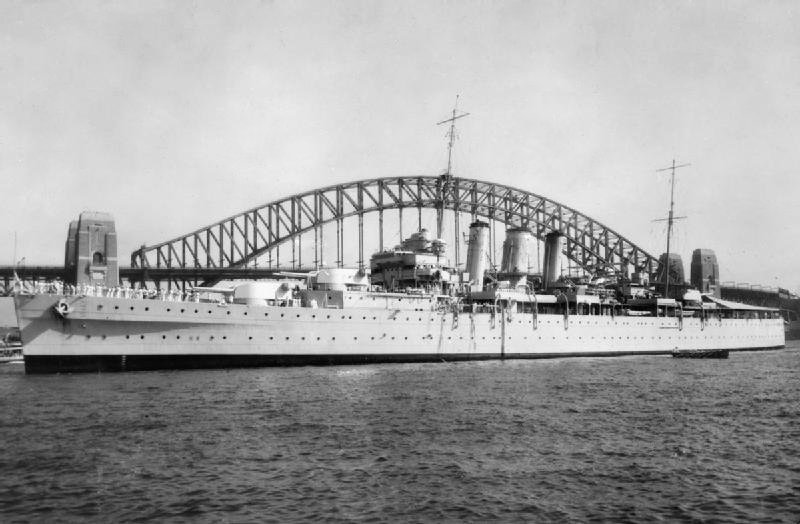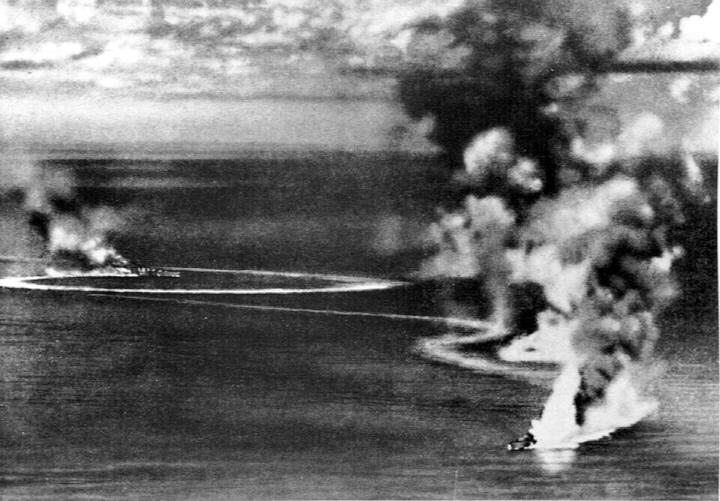 Dorsetshire
and
Cornwall
under heavy air attack by Japanese carrier dive bombers on 5 April 1942. Photographed from a Japanese aircraft.
Photo taken from a Japanese aircraft - Imperial Japanese Navy; this photo was captured by U.S. Forces on Attu Island, Alaska, in 1943 and became U.S. Navy photo