VS NFO. Blue and Gold Officer
None
Super Moderator
Contributor
Fifty-nine years ago last week was the
Bay of Pigs invasion
. I have always been interested in the "air war" and aircraft used in that ill-fated effort to roll back communism in our hemisphere and log a "W" in the Cold War.
The order of battle for the Cuban Liberation Air Force included 40 pilots and 8 Douglas B-26B Invaders supported by CIA contract C-46 and C-54. Interestingly, the AD-5 Skyraider was the first choice but bean counters claimed the B-26 Invaders was less expensive. In addition, the Cubans flew Invaders so it allowed for some psyops. Commies OB was 4 Hawker Sea Fury's (3 MC ), 5 Douglas B-26Cs, 8 armed T-33As ( 6 MC ). Brigade 2506, the erstwhile liberators, also had 2 contract supply ships and 3 LCUs.
Of interest is the Alabama ANG supported the invasion but with orders not to fly. In solidarity with the Brigade 2506 troops on the beach they flew the last mission,
@mad dog
flight, losing four American crew in two planes lost. An airborne insertion was accomplished with CIA flown C-46's.
Fifty nine years on there is still
mystery
and finger pointing over the failures of the operation. But the 1300 men on the beach actually comported themselves pretty damn well, and refused to be evacuated, all survivors being captured and facing unknown consequences. The Liberation Air Force was far more well trained and experienced then the Commies. But between the aircraft chosen by the CIA and how equipped, and the motivation, ingenuity ( CIA did not expect the armament mods to the T-33A ) and aircraft available to them, the Cuban Air Force did well with what they had.
The best summary of the operation, with emphasis on the air war, is a dry highly informative
video
presented in chorological order. Good photos too.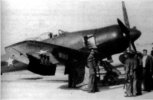 Cuban Hawker Sea Fury