SEVAL/ECMO
None
Super Moderator
Contributor
When I saw this, I thought a Rivet Joint had a bad day.
Don't ruin my pedantic posting with pesky facts.
I had a similar thought, but not Rivet Joint as those are RC-135V/W's and all 12 1/2 versions of the Boeing EC-135 have long been retired.
EC-135 ALCC (Airborne Launch Control Center)

EC-135N ARIA (Advanced Range Instrumentation Aircraft) -
Unfortunately involved in a crash of its own
.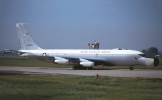 You can now go back to your regularly scheduled
Eurocopter
EC-135 thread.